At the conclusion of the NBA Finals in mid-October each of the 22 NBA franchises in Orlando will have gone through the most unique sports experience of their careers. The performance of the individual players and of the teams could trigger significant (and not so significant) changes to the each of the 22 teams. So let's take a look at the possible long term implications for the Western Conference participants…
Phoenix Suns – although they don't have a real chance of making it into the playoffs in the Orlando bubble, this will be the closest thing the "Bright Future Suns" will have come to playoff basketball. Suns believers argue with anyone who will listen that Devon Booker is a superstar and capable of leading a team to the playoffs. While no sane basketball observer can claim that Booker can't score with the best of NBA shooting guards; to this point you can't place him in the elite shooting guards due to his lack of team success and defensive weaknesses. The Suns front office certainly has struggled to surround him with the right pieces but as currently constructed they've been a frisky team at times, particularly with a healthy Kelly Oubre Jr. and a not suspended DeAndre Ayton. With Oubre out due to knee surgery this will give the Suns organization the ability to evaluate the ability of a Booker-Ayton led team to compete against the NBA elite.
San Antonio Spurs – after 2 decades of continued success, including 5 championships, under Greg Popovich the Spurs seem to be nearing a rebuild. If not a rebuild certainly a reshuffling. With the Spurs a distant long-shot at making the playoffs, it's not so much how they perform in the bubble that matters but what they do in the truncated off-season and following season that will determine the speed at which they can re-arm their franchise. Once this season concludes both of the Spurs leading (and aging) scorers will on expiring contracts. Their front office will more likely than not be aggressive in trying to move both of them to acquire young assets or picks to compliment their young point guard Dejounte Murray. He very sneakily had a nice season coming off missing the season prior shooting 48% from the field and 38% from three.
Sacramento Kings – between sexual assault allegations (that were found to be unsubstantiated), a very public contract standoff with Buddy Hield and the front office, and injuries to key, young talent like Marvin Bagley; Luke Walton's debut season as coach of the Kings has been a tumultuous one to say the least. While they have an outside chance at a playoff birth their time in the bubble and shortened off-season will make the Bogdonavich – Hield decision one to watch. While they can try to plow ahead with both, quality shooting guards are always a desired commodity so it's easy to imagine that teams will come calling (perhaps a 76ers team who desperately needs shooting). Although they did fail to meet many prognosticators lofty expectations this year, De'Aaron Fox continued to show growth in his game particularly as a scorer. Fox may not ever emerge as a player capable of being a #1 scorer on a championship team, he certainly can prove that he's a capable #2 scorer while competing in the bubble.
New Orleans Pelicans – in shape Zion…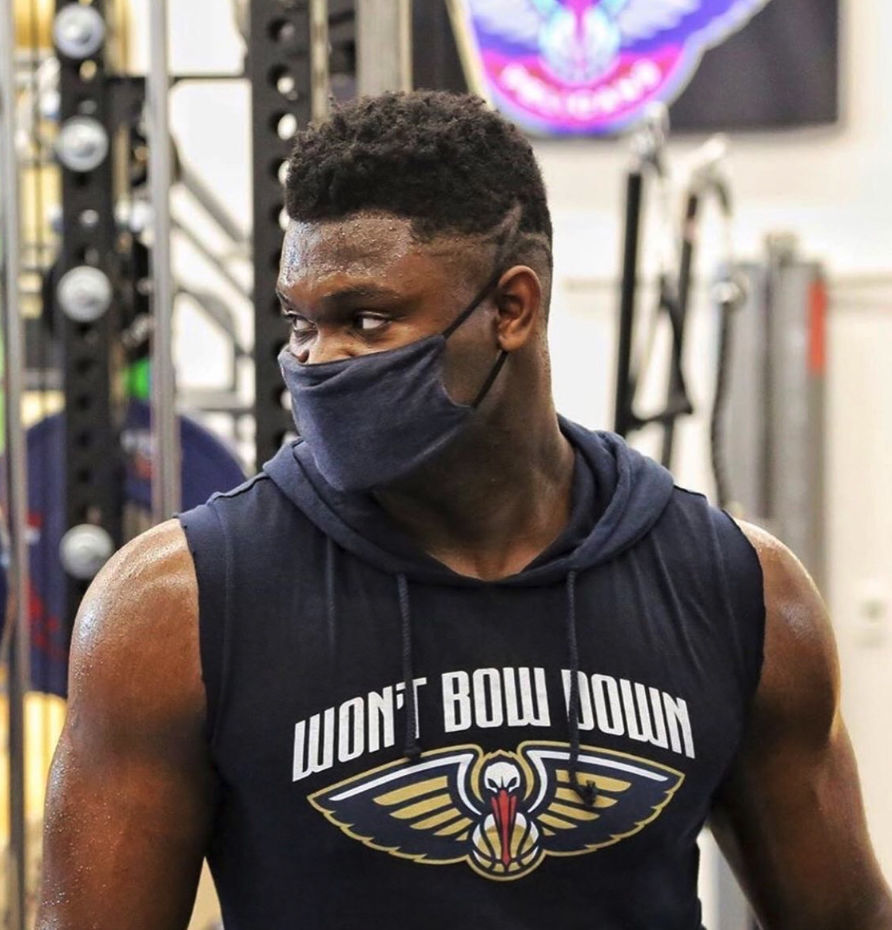 I mean the entire basketball universe are salivating at what havoc Zion might bring to the NBA restart but there's so much more than Zion that's interesting here. The NBA would appear to be honoring David Stern's memory by setting the Pelicans up in the best possible situation to make a run at the 8 seed seeing as they play only 2 games against teams with winning records. Their 2nd game against the Clippers is particularly interesting to see if they unleash their super small lineup of Ball-Redick/Hart-Holiday-Ingram-Zion which could pose problems when the Clippers go to their Montrezl Harrell lineups. While the only immediate decision the Pelicans will have to make this off-season will be what to do with restricted free agents Lonzo Ball and Brandon Ingram. The latter of who will be commanding a max deal and will likely get it. What remains to be seen is if the young core as constituted holds the trust of David Griffin and the rest of the front office. Outside of the 2 aforementioned players its unlikely they make wholesale changes.
Portland Trailblazers – the NBA community's bubble darling has been getting positive buzz for weeks (maybe not undeservingly). No team might have benefited from the layoff than the Blazers. Reinforcements have arrived in the form of Jusuf Nurkic and Zach Collins, however wing depth will be an issue. Rodney Hood remains out with an achilles injury and Trevor Ariza has elected to not enter the bubble, which leaves former Small Forward Carmelo Anthony, Nasir Little, and Mario Hezonia as options. Unless they go small and play 3 guards with either Anfernee Simmons or Gary Trent Jr. Either way, should they make it into the playoffs they would have to face the wing strength of the Clippers or some guy named Lebron neither of which would bode well. Outside of seeing what Nurkic and Collins can bring there isn't too much that should change for the Blazers going into next year. Biggest question is how many hoodies did Melo pack for Orlando?
Memphis Grizzles – to (hopefully) no ones surprise Ja Morant has flourished in the spread out and less congested NBA style game. The presumptive Rookie of the Year has flashed as a scorer (18 ppg.), facilitator (7 asts.), and late game finisher…
Morant's size and speed along with his court vision make comps to Penny Hardaway more than accurate. Hopefully he can avoid the debilitating injuries that cost Penny much of his prime. The Grizzles, despite their schedule having only 3 sub-.500 teams, should be able to hold on to the 8 seed but to do so they will need the returning from injury Brandon Clarke to be close to what he was able to do to start the year. But perhaps the most intriguing question for the Grizzles will be how will they incorporate Justise Winslow. He wanted to be a Point Guard in Miami (he won't be that here), so will he be able to provide league average shooting from 3 to warrant major minutes? That remains to be seen.
Dallas Mavericks – it's hard to remember a more dangerous 7 seed. The Mavs boast a top-tier 1-2 punch in Luka and Porzingis and a hall of fame coach in Rick Carlisle but without Dwight Powell and Willie Cauley-Stein they are dangerously thin on the front line. With a diminished Center rotation, Carlisle could turn to more Porzingis at Center minutes, especially if they face the small ball inclined Clippers in the first round. It appears that the Mavs are ahead of schedule so coming out of the bubble they'll have to decide if they're comfortable with Tim Hardaway Jr. as their third option or if they need an upgrade.
Houston Rockets – the disruptor. That is exactly what Houston can be in these playoffs. They are the most uniquely constructed team in decades and have the fire power to unseat any of 5 teams ahead of them. Harden has slimmed down and the super small ball lineups have unlocked Westbrook but the Rockets will live and die by the 3. And nobody on the Rockets fits that description more than Eric Gordon. His catapult, load and fire, set shot, when on the mark is as deadly as they come but Gordon has spent much of this season searching. Searching for health (he's played in only 34 games) and searching for his three ball (32%). If Gordon can return to form the Rockets will be a major force in the West but if not and a quick exit is the result, a Rockets off-season already rumored to be filled with the depart of coach Mike D'Antoni and GM Daryl Morey could see significant roster changes too.
Oklahoma City Thunder – OKC has been more than a pleasant surprise this season. Between a return to all-star form for Chris Paul and the massive 2nd year leap of Shai Gilgeous-Alexander they have turned in a memorable season in what many considered to be a lost year for them. Their top 4 scorers (Paul, SGA, Schroder, and Gallinari) all average over 17 a game and more impressively they all shoot the 3 at above 35%. The days of wondering if Paul would be dealt to another team at a discount are long gone. Paul and Center Steven Adams come in as a top 10 pick n' roll duo. The intriguing thing to watch will be if SGA can show growth in the playoffs after some (anticipated) struggles last year on the Clippers.
Utah Jazz – while they might be positioned as the 4th best team in the West coming into the bubble the Jazz are anything but poised for a playoff run. Their 2nd leading scorer in Bojan Bogdanovic (20 ppg) had surgery during the shutdown and is out for the remainder of the season. In his 63 games with Utah, Bojan proved to be an excellent secondary attacker and floor spacer. He also is critical to Utah's defense as he was the primary defender against bigger wings. Without him the task falls to Royce O'Neal, who while a nice player cannot provide the offsensive punch that Bojan does. Then there's Rudy Gobert who is working back from a positive Covid-19 diagnosis and some lingering uneasiness in his relationship with star Donovan Mitchell. What this likely means is more offensive responsibility for Joe Ingles and Mike Conley, both of whom have been up and down this season. Utah toyed with each of them in the role of 6th man this year to mixed success but now will need both to at the top of their games in order to make a run. Should Utah disappoint a roster retooling could certainly be in order as Conley and Gobert will be on expiring deals next season, while Mitchell who was believed to be all set to sign a max extension this summer could try and force his way to a bigger market.
Denver Nuggets – perennially under the radar yet somehow viewed as overrated by some in league circles, Denver quietly could be a team ready to push the two LA teams for a place in the finals. The shutdown has made the typically boring Nuggets (boring in that they go about their business in professional manner and win playing an enjoyable brand of basketball) rather intriguing. Nikola Jokic has finally lost the weight that the media has been critical of him for (the same media now questions if he's too skinny) and several players with lingering health issues are back to full strength. With a fully healthy roster Denver boasts possibly the most versatile team in the West. They can match the size of the Lakers and also downsize to match the small ball lineups of the Clippers. An interesting thing to watch will be how much trust the coaching staff has in Michael Porter Jr. The front office has reportedly pushed for him to get more minutes (he should) and if he proves capable Denver will feel more comfortable in letting Paul Millsap walk in free agency.
LA Clippers – in an odd way I believe we sleeping on the position the Clippers find themselves in. While they've gone through more struggles this year than perhaps was expected they still might be the team best suited for championship run. Their 2 stars are finally completely healthy, their defensive tone setter in Pat Beverley is fully healthy, and mid-season acquisitions in Marcus Morris and Reggie Jackson should be settled into their roles by the time playoff time begins. The big question that has plagued them all year still exists in can they match the size of the Lakers and by they we mean Harrell. Harrell has been critical to the Clippers and their bench unit the last 2 seasons. Should he struggle against the inside presence the Lakers bring the Clippers might be more willing to let him (and his high price tag) walk in free agency.
LA Lakers – flashback to the summer of 2014 and tell me what you would say if I told you the following…
Lebron is the starting Point Guard on the Lakers
Anthony Davis is their Power Forward (and still takes issue with big minutes at center)
JaVale McGee and Dwight Howard combined to give them competent Center minutes
Rajon Rondo is on the bench and still goes in the game sometimes
This team is the #1 seed in the West
Oh and they signed Dion Waiters and J.R. Smith because Avery Bradley is sitting out of the NBA bubble in Orlando that happened because of a pandemic
If you response isn't the blankest face filled with bewilderment that you can picture you've got one hell of an imagination. Nevertheless Lebron has his squad ready to push for the title, especially if Laker players have been getting in secret pickup games around LA as some in the media have mentioned anecdotally. This Laker team has been better than advertised and although they will miss Bradley's perimeter defense, particularly on Point Guards, the come will be the favorite to come out of the West. I suppose the only question left unanswered is who will take the last shot in a 1 score game…Lebron or Dion.
The NBA All-22: Part II – The East is next…